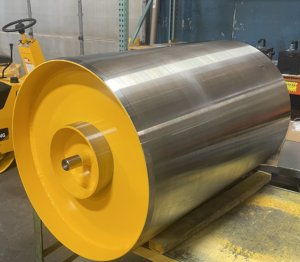 When it comes to purchasing heavy machinery like asphalt rollers, there are many factors to consider, including cost, quality, and reliability. One factor that might not be top of mind for some buyers is where the machine is made. However, there are several advantages to choosing a New Beuthling machines, which are made in the USA.
Quick Shipping from Wisconsin
One advantage of domestic manufacturing is that it can lead to faster turnaround times for customers. Because New Beuthling machines are made in the USA, they don't have to travel as far to reach customers in North America, which can reduce delivery times and lead to a more efficient supply chain.
Availability
Another benefit of American manufacturing is that it can provide customers with greater access to replacement parts and accessories. Because New Beuthling machines are made in the USA, it is easier to order parts and receive them quickly if repairs or upgrades are needed.
Local Support
Perhaps the most compelling reason to choose a New Beuthling machine made in the USA is the impact it can have on local jobs and communities. By supporting American manufacturing, customers are helping to create and sustain jobs in their own communities and across the country. Additionally, New Beuthling has a long-standing commitment to American manufacturing and has been supporting local jobs and communities for over 40 years.
By investing in domestic industries like New Beuthling, customers can contribute to the growth and development of local economies while also getting high-quality, reliable machinery.